Special Offer for
our fighters
Safe Stay Hotel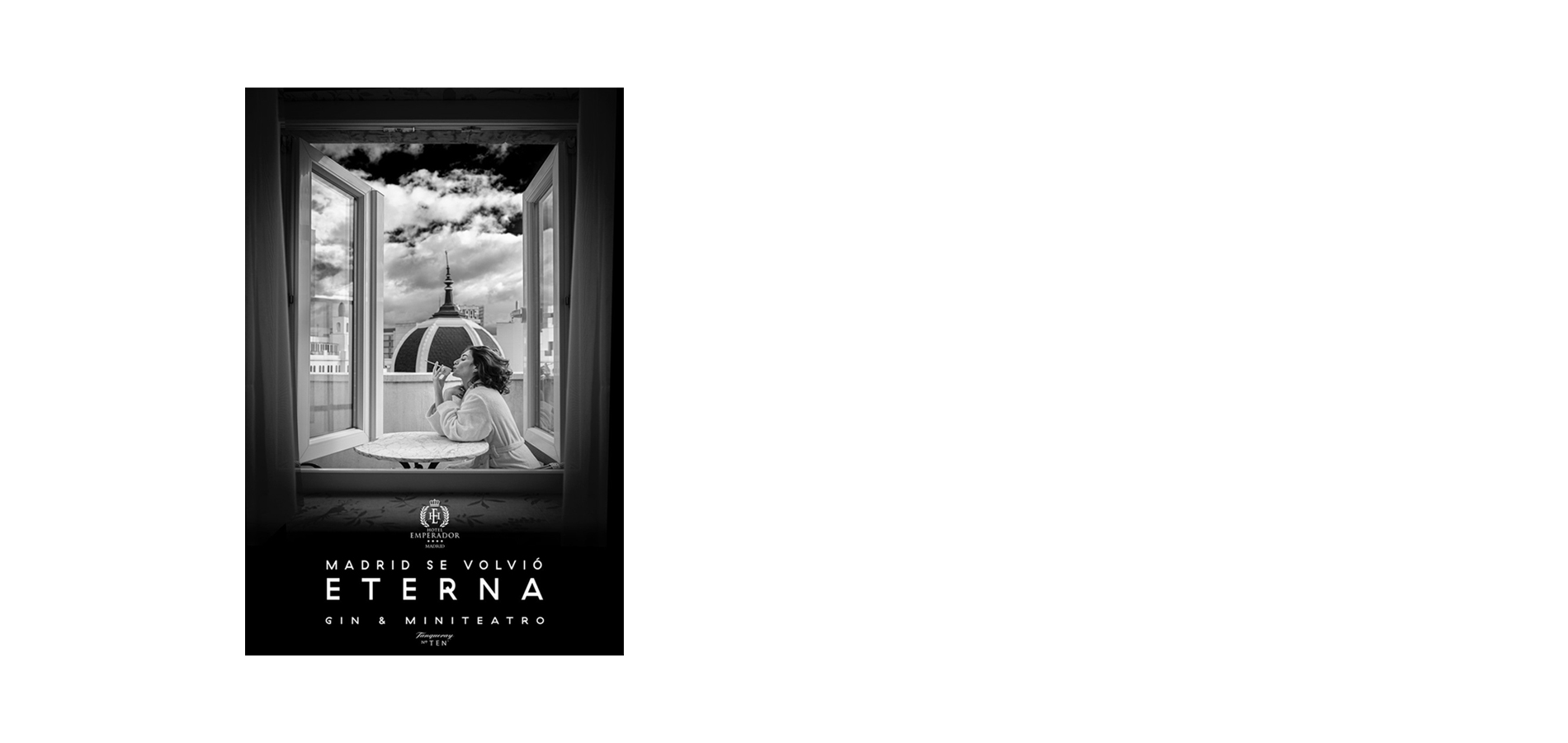 Mini-theater & Gin
A theatrical performance inspired on Ava Gardner's life set in 1950's Madrid, that we are sure it's going to fascinate both guests and locals.
As the name suggests, this is a Mini-theater performance, so the sessions will be 15 minutes long and will include, apart from a wonderful theatrical experience, the chance of enjoying a Gin Tonic at our Sky bar. The play will be performed both in Spanish and English and it will cost 15 euros.
Dates:
-Friday, January 24th
-Friday, February 21
-Friday, March 13
-Friday, April 10
Price: 15 euros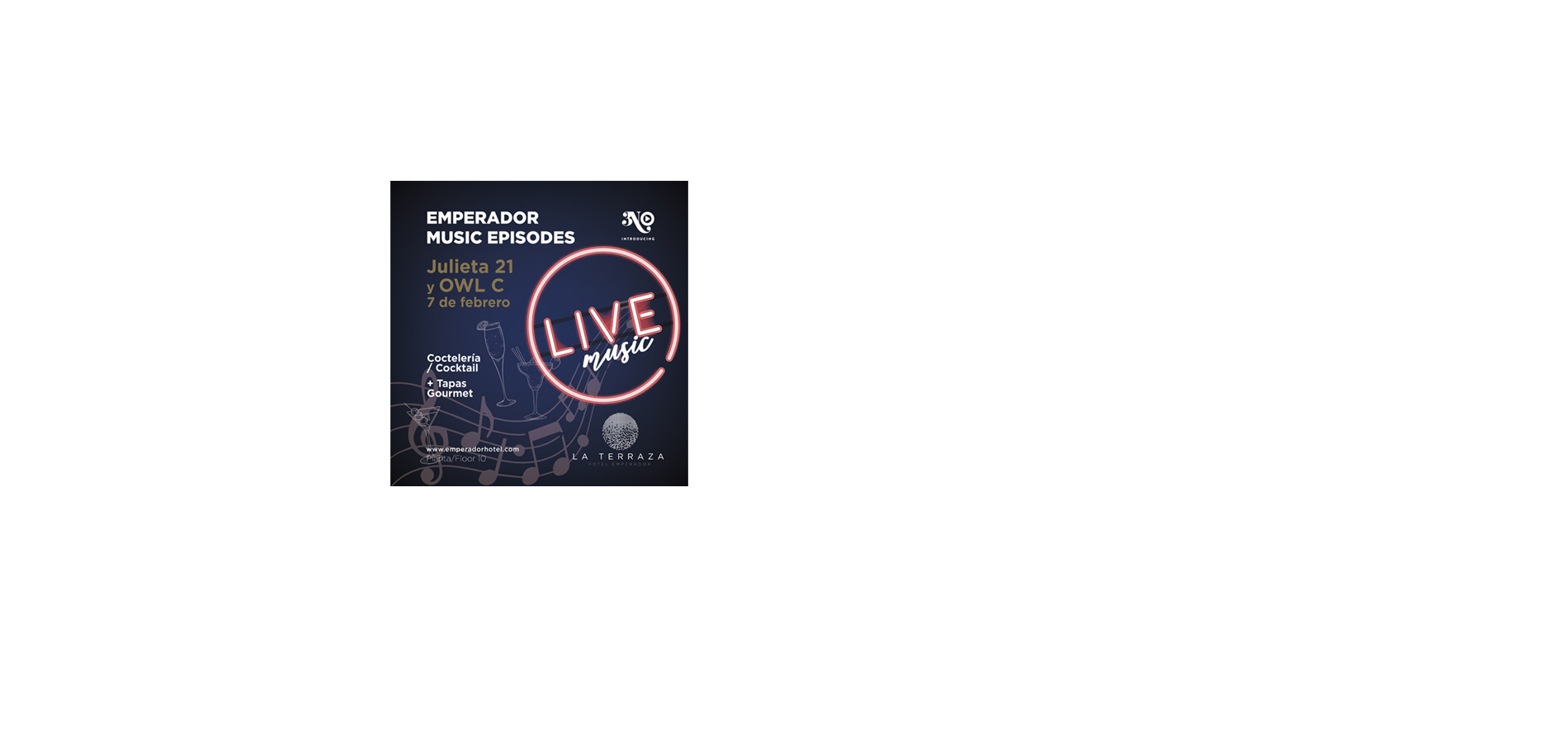 Emperador Music Episodes
Enjoy the best live music surrounded by stunning views, on Fridays
– February 7: Julieta 21 & OWL C.
Universal pop for all ages – fans of The Beatles will be delighted by the influence of the Fab four. Musician José Pérez will see his project land next February 7 on the 10th floor of the hotel, where he will share the stage with OWL C band.
– March 20: Ombra & Of Monts and Stars
Ombra is an indie/alternative rock band that has received multiple awards and that will be playing together with Of Monts and Stars rock band. They've been described as 'bulletproof electric rock n roll' and their live concerts are certainly a contagious explosion of passion and energy. Each song has its own story behind about life outside the bubble, built on a perfect storm of guitars, powerful vocals and impressive drums.
– April 17: Luis Fercán
One of the most promising soloists of Spanish pop, he now starts a new solo project.
When: beginning at 8pm.
Free entrance.
Where: La Terraza; 10º Floor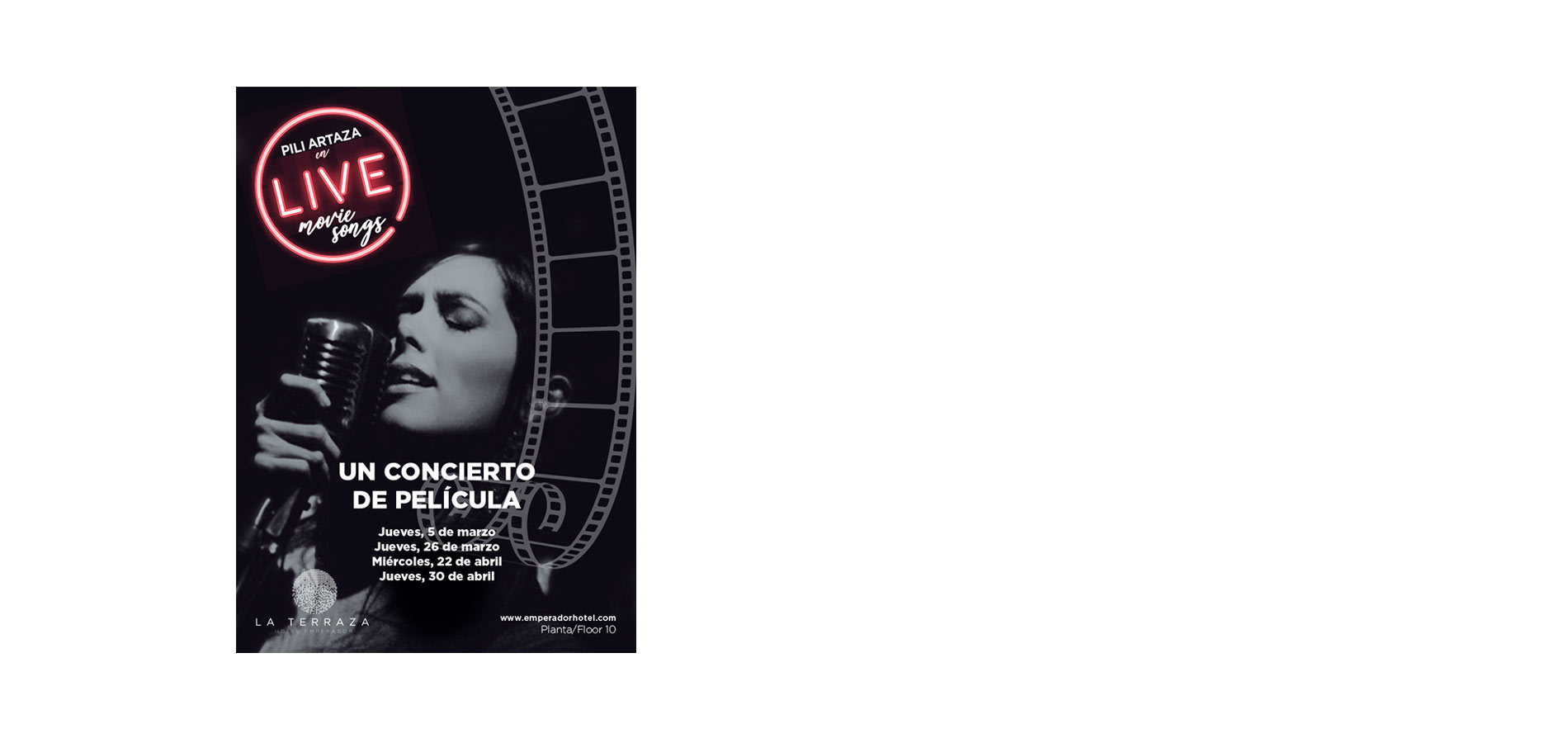 "Live Movie Songs"
After singing for Disney for many years and playing key roles in major musicals, such as Beauty's understudy in "Beauty and the Beast" and Éponine in "Les Miserables", just to mention a few, Pili Artaza is offering us a new show, "A Life of Film", with all the elegance and authenticity of her unique style. This show can be enjoyed on the tenth floor of Hotel Emperador on the following days:
-Thursday 5 March.
-Thursday 26 March.
-Wednesday 22 April.
-Thursday 30 April.
Time: from 20:00.
Free entry.
Place: The terrace, floor 10.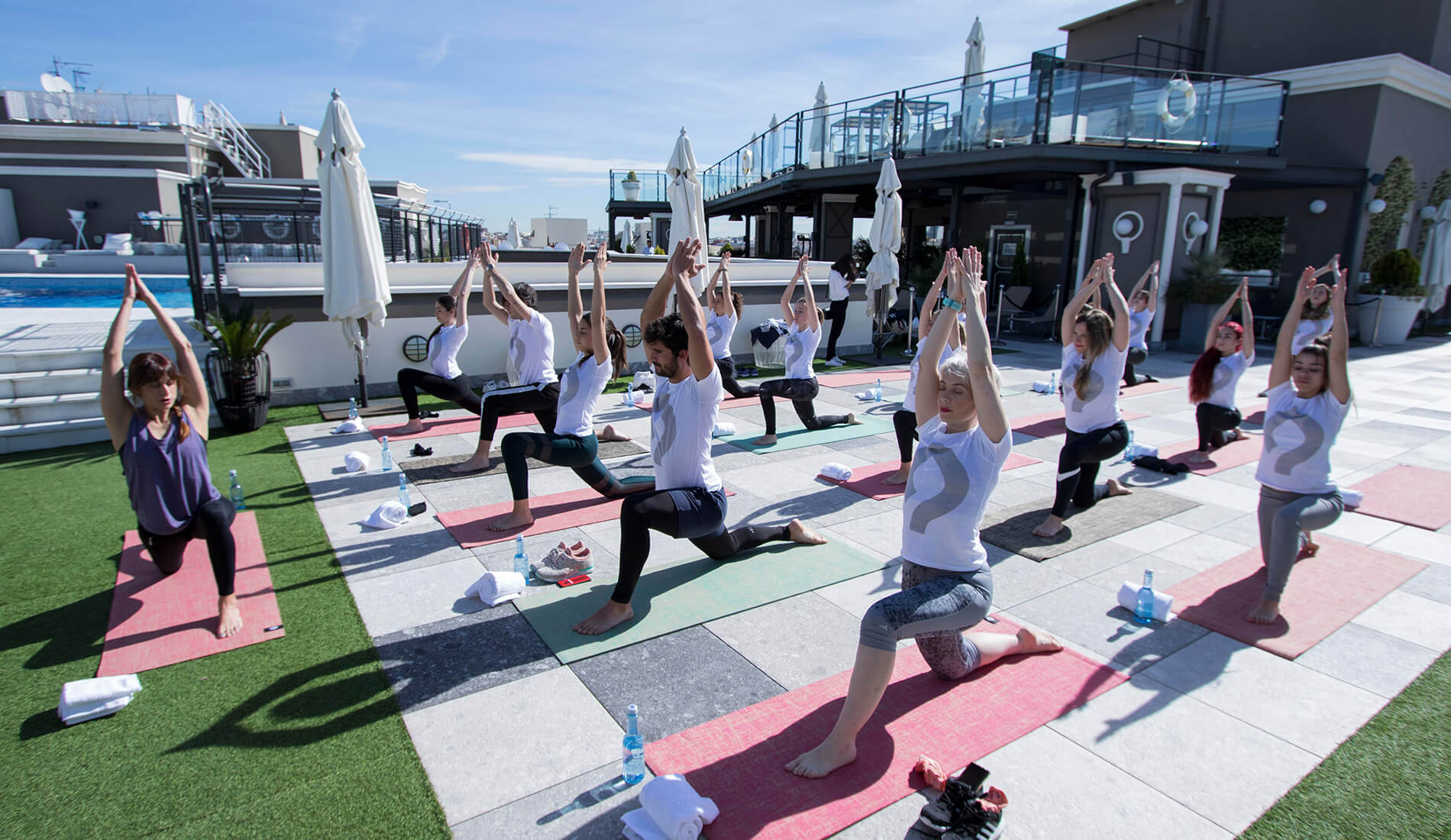 Yoga
Hotel Emperador welcomes this year's good weather with a spectacular programme of yoga masterclasses in its Beach Club. With views of the Royal Palace and located right in the heart of Madrid, the terrace is the perfect place to kick start your day while taking care of body and mind.
After the masterclass, you can stay for a leisurely breakfast to enjoy the cosmopolitan but relaxing atmosphere of the hotel (book in advance at reception or by writing to the following email address: info@emperadorhotel.com).
Every Wednesday, prior reservation, from 10:00 to 11:30
Rates:
12€ guest
25€ local client
One to one classes available on request
70 €/hour per person
Available also in winter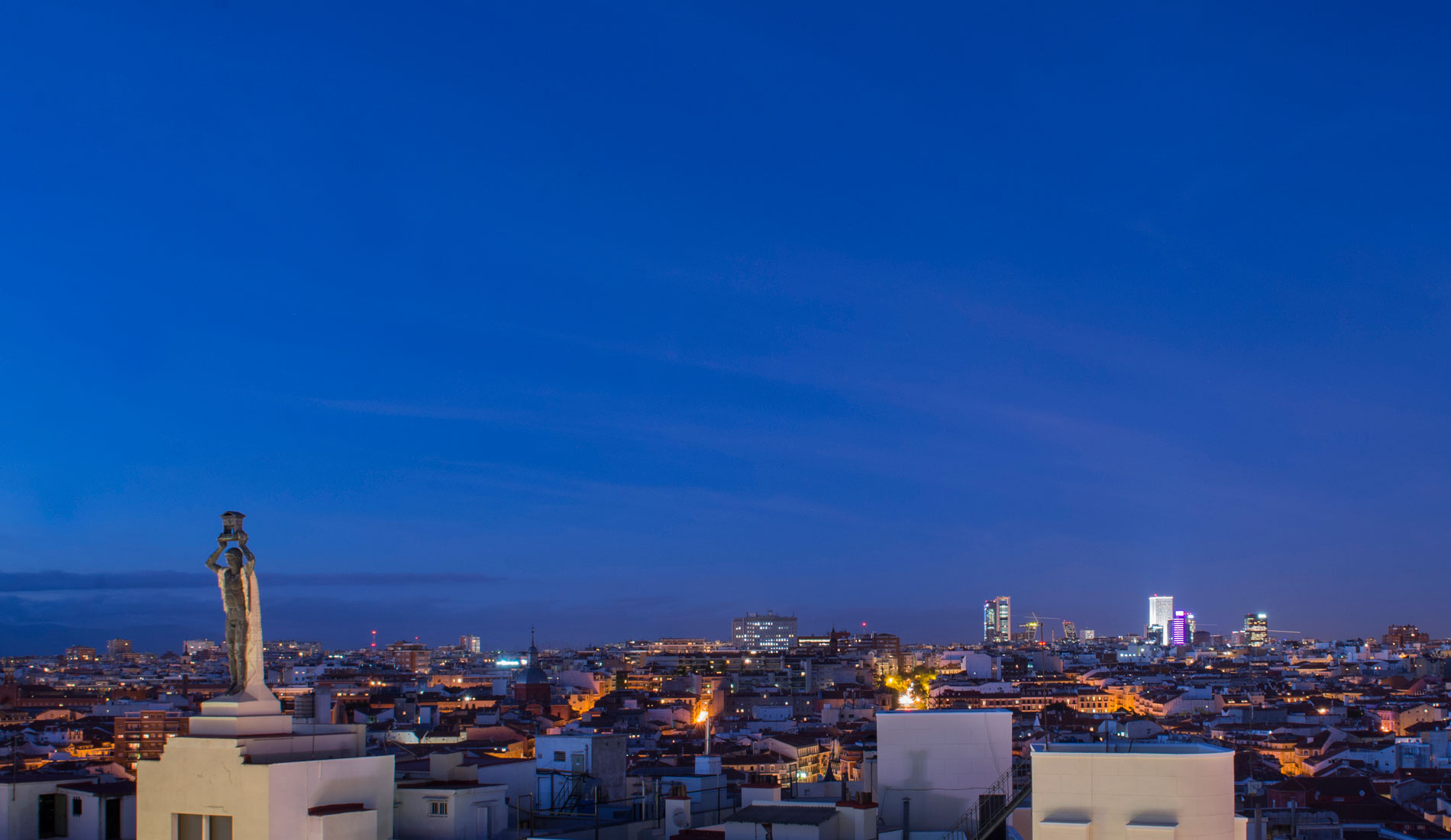 Guided tours
Thanks to its strategic location, the Hotel Emperador has launched a guided tour to bring Madrid closer to its residents and its visitors. Every Wednesday (advance booking required), a tour guide will be showing visitors the main landmarks that can be seen from the hotel's tenth-floor rooftop terrace.
Tickets: 19 euros per person (VAT included).
Every Wednesday at sunset.
Groups upon request.