Safe Stay Hotel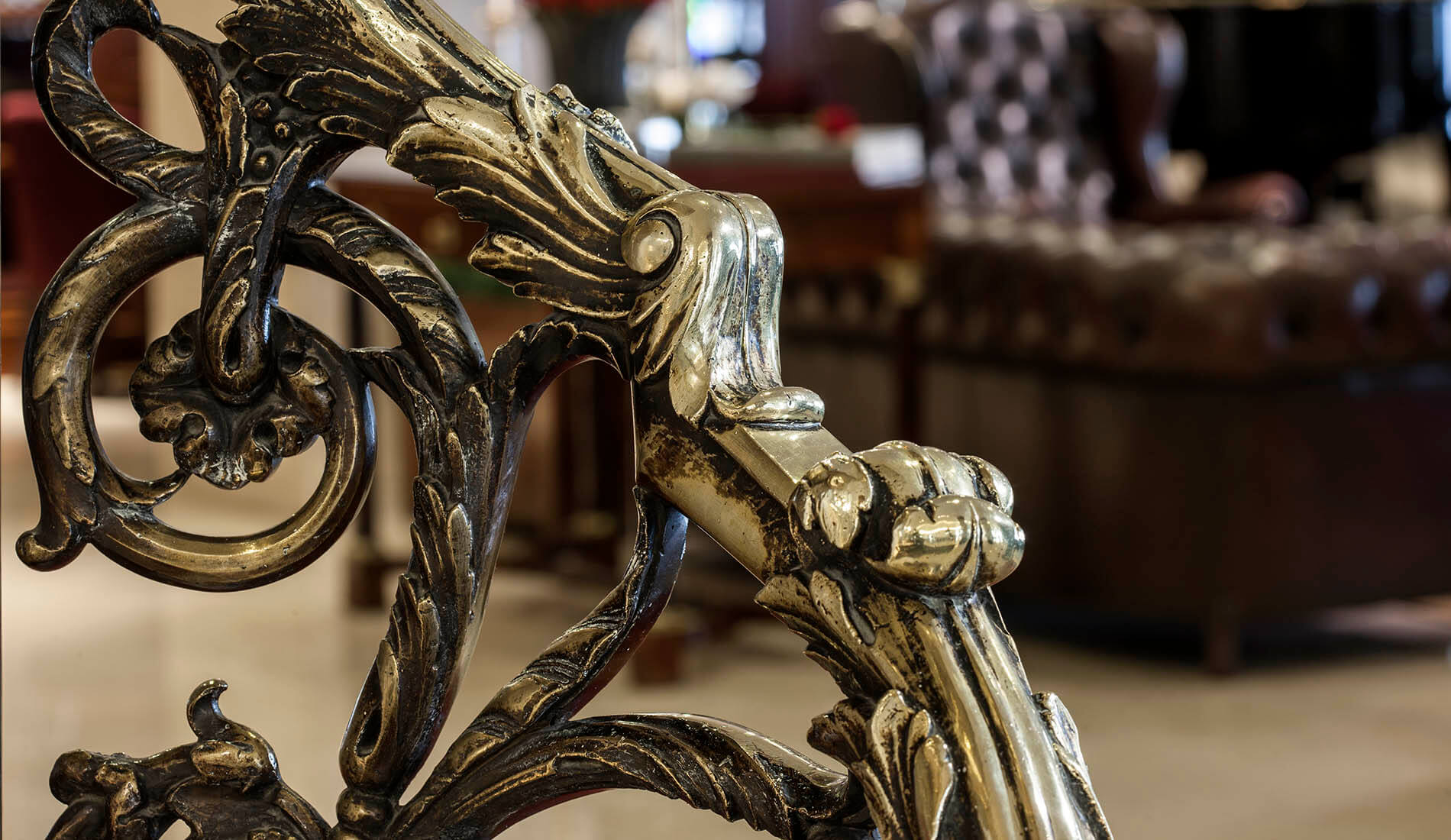 Lobby Art Gallery
Art ambassadors
We have fully reinvented the Lobby Bar of Hotel Emperador and turned it into a space dedicated to fashion and art. In our quest to promote talent, we have prepared an exhibition programme to showcase the work of young and established artists.
Inaugurated in September 2017, Lobby Art Gallery presents itself as an alternative art gallery which hosts temporary exhibitions and a permanent programme promoting artists from different art disciplines, ranging from abstract art to collages, sculptures and even interventions in our street art space.
Open Monday to Sunday from 10.00 a.m. to midnight. Free entry.
Our programme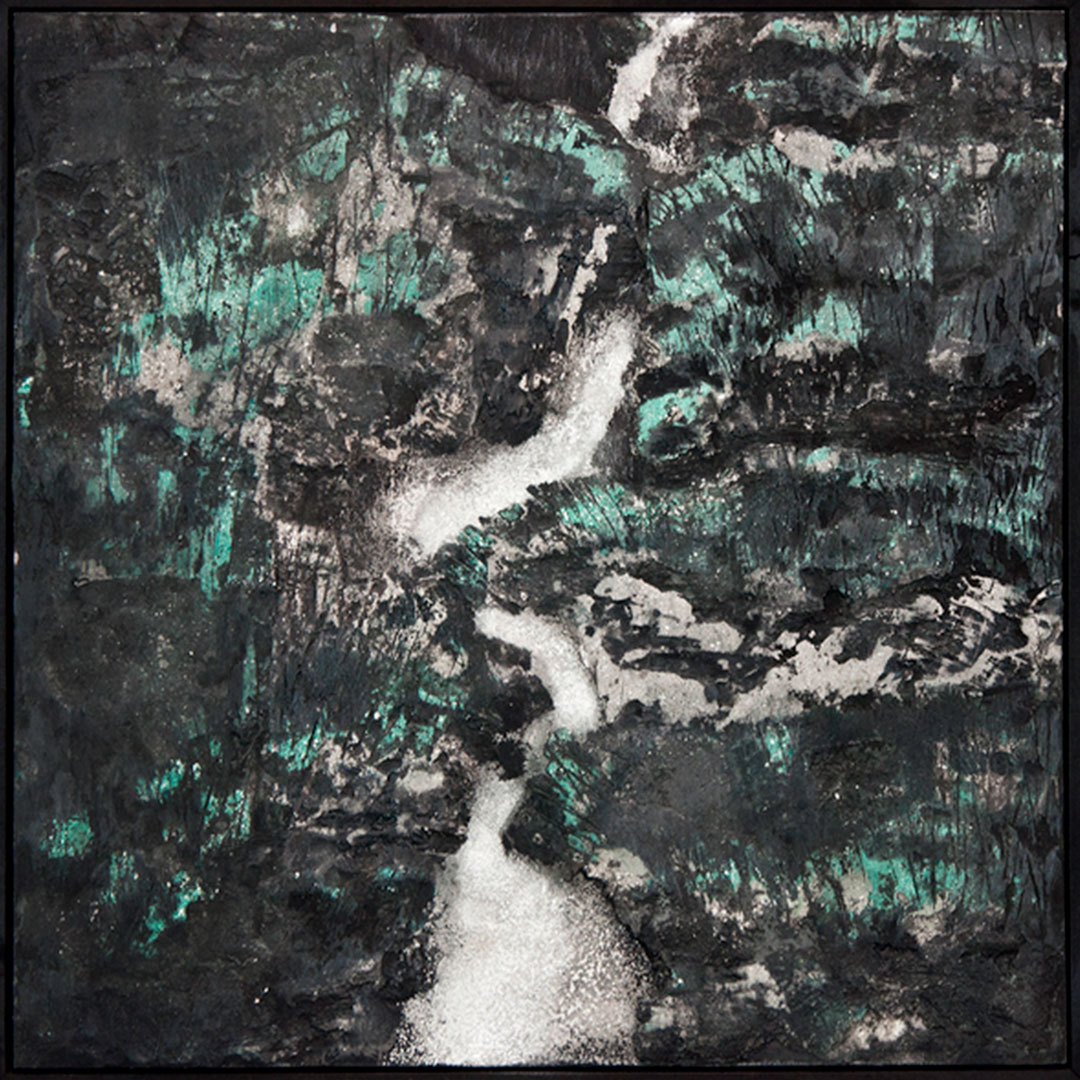 Joo Eun
Sanguiun
From 05/11/2018 to 9/12/2018
Sanguiun is an invitation to change in the mountains, in solitude and in silence to listen to both your soul and our own soul and to feel the bond that exists between us and Nature.
The language that Joo Eun uses is made of the silences that pervade the mountains and the silences that accompanied her childhood, which were at times pleasant and at others terrifying. Over time, silence became her language, which is represented through the foggy landscapes, the snowy images with no signs of human footprints, the dark nights, etc. The mystique of nature is represented through these works and is highlighted by the contrast between the darkness and the light, which illuminates the path. The illuminated path is particularly inviting as it is bursting with mysteries and deeper feelings.
Joo Eun creates her art with unusual techniques that are based on water, earth and some pigments, which create very stimulating textures. In them, reference is made to the cosmos and the earth based on a vision and sensitivity that is halfway between east and west, which also evokes the mystical and ancestral character of nature.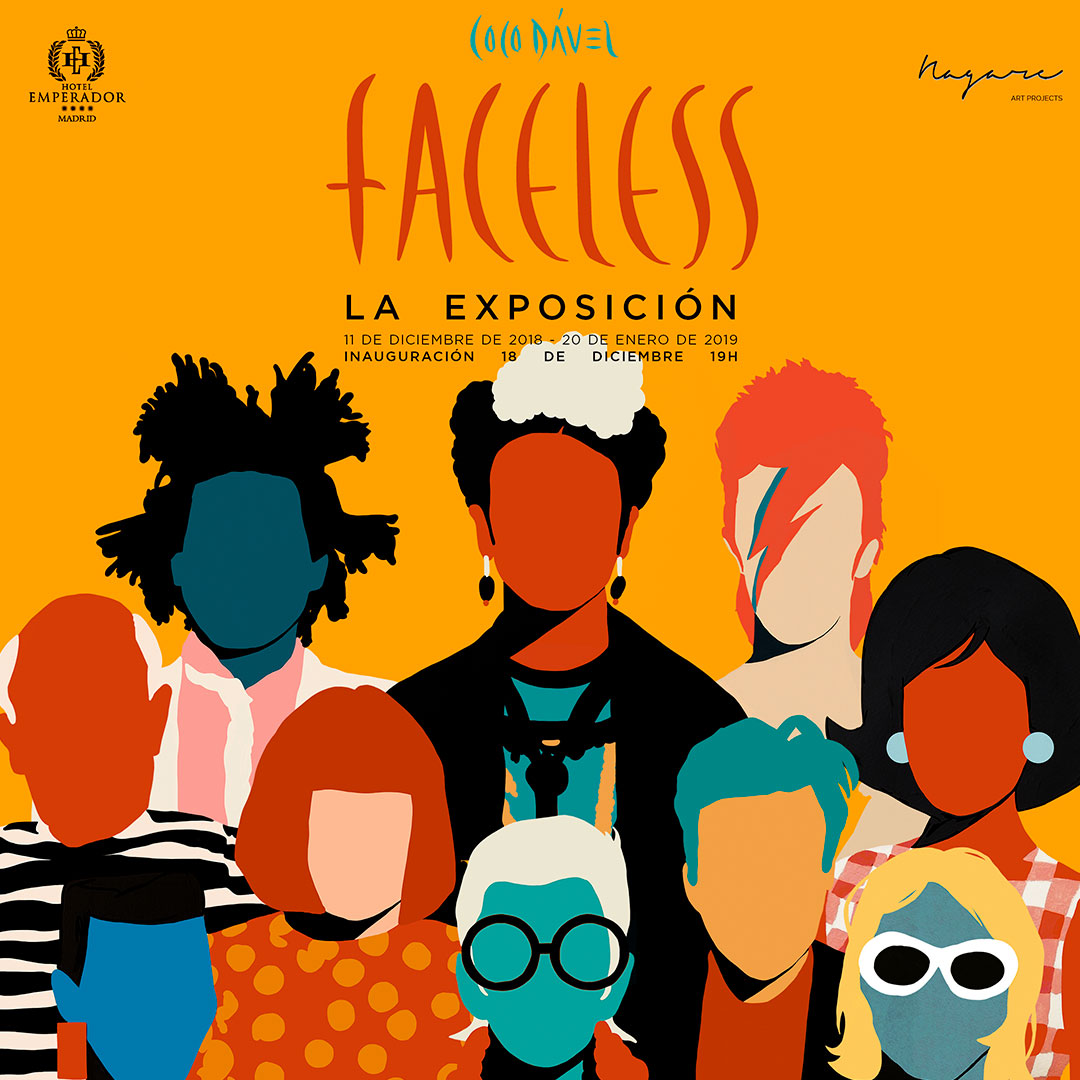 Coco Davez
Faceless
From 11/12/2018 to 20/01/2019
Faceless are portraits based on the simplicity of the shapes and the combination of pure colours, which seek to capture the personal nature of each individual person. The face disappears to represent the energy of the person being portrayed.
Therefore, this realistic depiction uses pure colours, so that the feelings, experiences and memories transmitted by the person being portrayed to the author can be emphasised. Coco Dávez is able to make each portrait have its own personal character, as she is able to understand this in each person.
In a process of schematisation and synthesis, the young artist from Madrid turns the character into an icon, a symbol. She has fauvist influences, much like artists such as: Picasso, Frida Kahlo, Le Corbusier, David Lynch, Jacques Cousteau, Grace Jones, Basquiat, Yayoi Kusama etc. A pictorial journey through the popular culture of the 20th century, coming from the brush of one of the greatest artists at the moment.
Coco Dávez (Madrid, 1989) began her artistic career in London in 2010 when she began to work as an illustrator for the newspaper "El Mundo". She has been progressing her career in the fields of art direction, photography and, the most well-known, painting.
Would you like to discover all the artists whose work we have exhibited in our art gallery?
What else do we offer in our Lobby Art Gallery?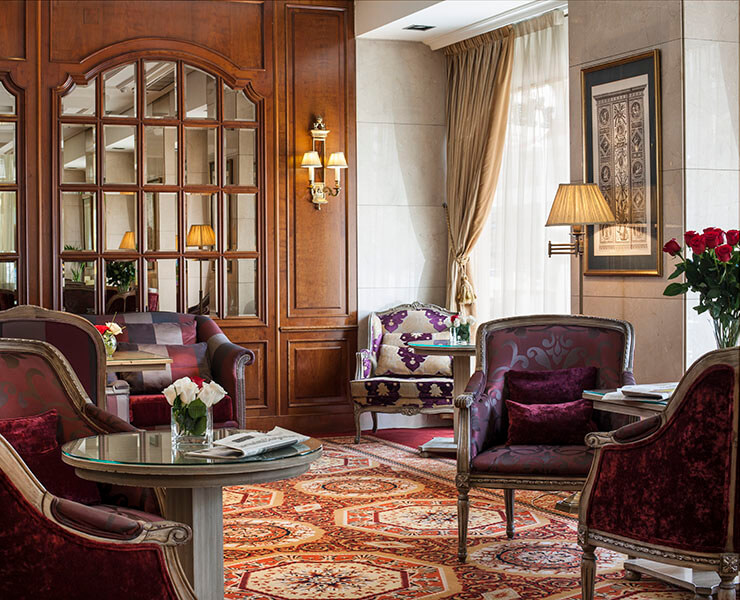 A traditional essence
The Lobby Bar of Hotel Emperador has always stood out for its English-style elegance, combining the essence of tea rooms and classic British bars, to which we have added a touch of art and culture yet still maintaining the spirit which has consolidated us as a favourite choice in Gran Vía.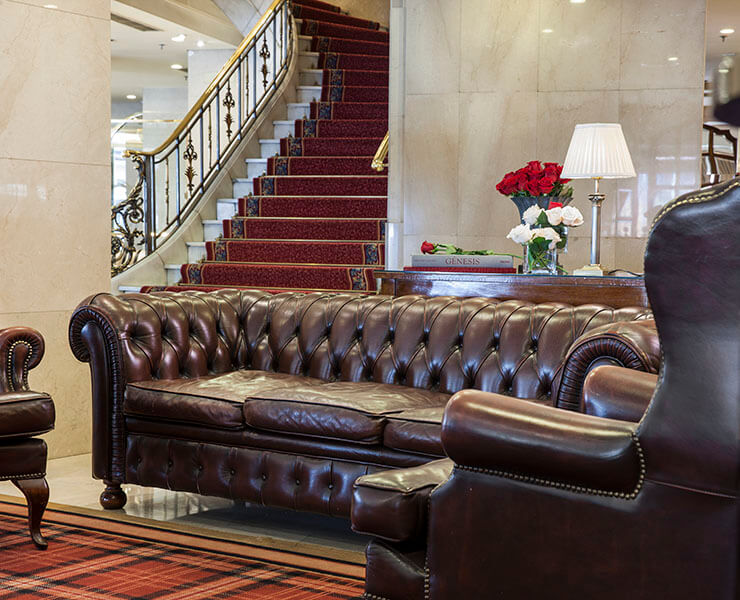 Comfort and elegance in Madrid
Relaxing while you observe the daily life of a city like Madrid is a luxury you cannot afford to miss, especially if you are doing so from a place such as the Lobby Art Gallery of Hotel Emperador. This relaxing spot offers comfortable armchairs, some of them of the chesterfield variety, and a sophisticated decor visible through the large windows overlooking Gran Vía.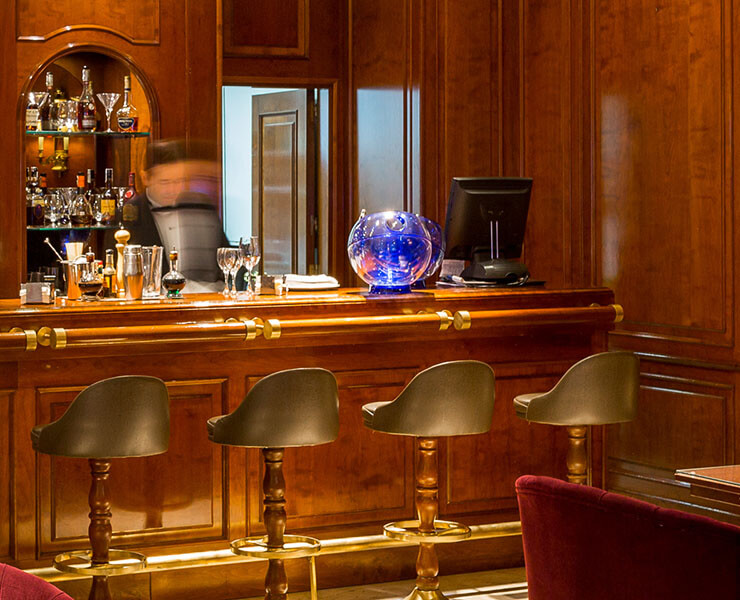 Simply irresistible
We offer a large selection of cocktails, beers, wines and a tasty light menu which includes salads, sandwiches, burgers and desserts. We are the best option to relax and unwind before dinner with a cocktail or a drink after a long day of work or sightseeing.